Dodgers Skim Past Express, 2-1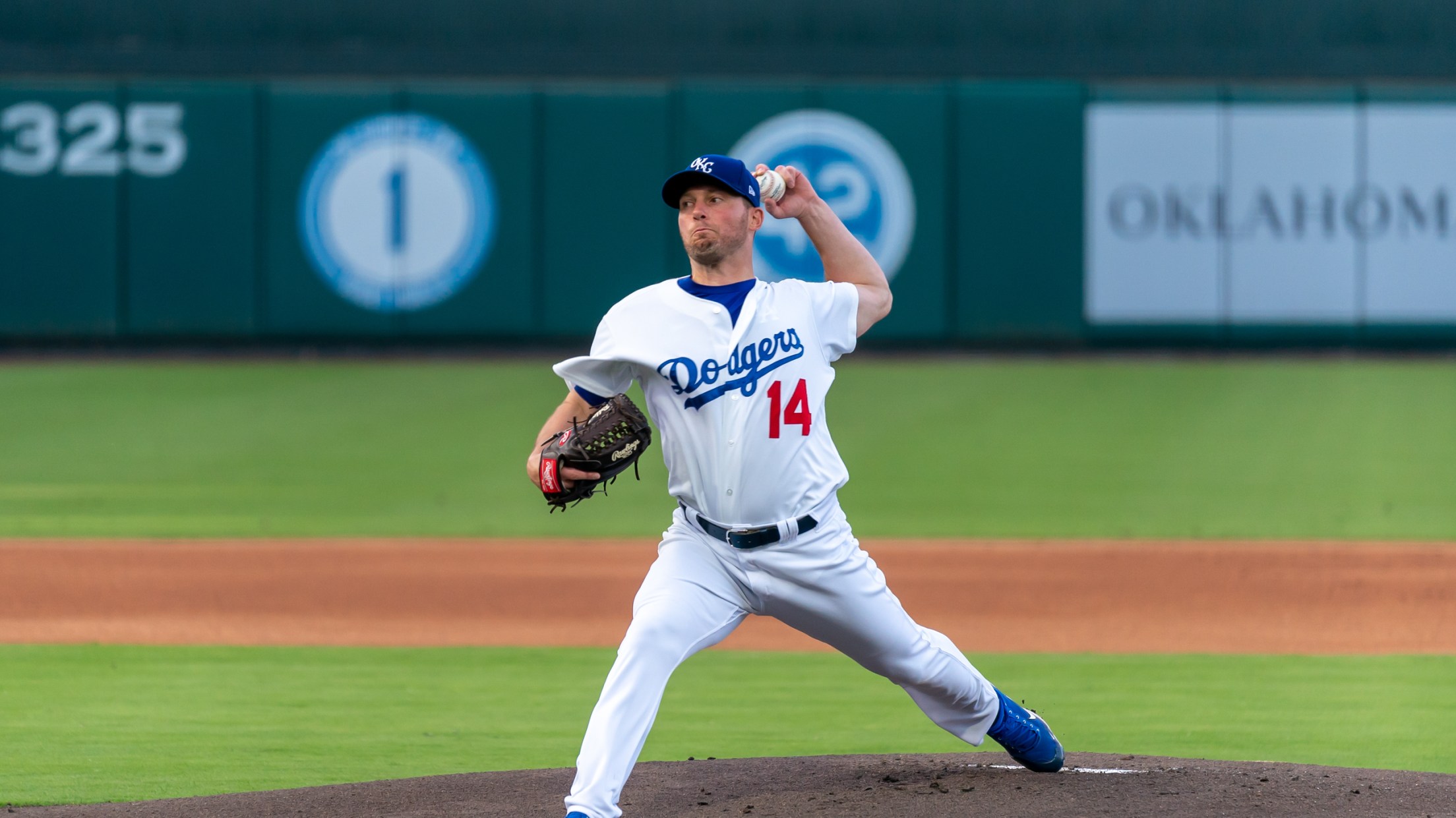 Robbie Erlin earned his second win of 2023 with one run over five innings Saturday in Round Rock
Oklahoma City Dodgers – 2 Round Rock Express – 1 Saturday, May 13, 2023 – Dell Diamond – Round Rock, Texas Game Summary: The Oklahoma City Dodgers scored two runs in the second inning and the pitching staff made it hold up for the remainder of the game during a
Oklahoma City Dodgers – 2
Round Rock Express – 1
Saturday, May 13, 2023 – Dell Diamond – Round Rock, Texas
Game Summary: The Oklahoma City Dodgers scored two runs in the second inning and the pitching staff made it hold up for the remainder of the game during a 2-1 victory over the Round Rock Express Saturday night at Dell Diamond. For the third time in five games in the current series, the Dodgers (27-11) held the Express to one or no runs. Starting pitcher Robbie Erlin allowed one run over the first five innings before Tyler Cyr, Andre Jackson and Nick Roberston combined to keep Round Rock (21-16) scoreless and hitless over the final four innings. Following hits by Hunter Feduccia and Ryan Ward to start the second inning, the Dodgers scored on a RBI groundout by Yonny Hernández and a RBI single by Steven Duggar. The Express scored its only run in the fifth inning with a solo homer by Sandro Fabian. While trying to extend their lead, the Dodgers left seven runners on base over the final three innings. However, Round Rock only had two runners reach base over the final four innings and never advanced the tying run into scoring position.
Of Note:
-The Dodgers have taken each of the first five games of the current series in Round Rock and have now won six of their last seven games. It's the second time in the last three series they have started 5-0 – something the team had never accomplished prior to this season after beginning to play primarily six-game series beginning in 2021. After entering the series with a just a half-game lead ahead of the Express in the standings, the Dodgers now lead the Pacific Coast League by at least 5.0 games, pending Reno's result Saturday night.
-At 27-11, the Dodgers are tied for the team's best record through 38 games during the Bricktown era (since 1998), only matched by the 2015 team. OKC has also set a new high-water mark of the season at 16 games above .500. Their current five-game road winning streak is also a season best.
-With Saturday's win, the Dodgers improved to 11-1 in one-run games and 15-2 in games decided by one or two runs this season.
-Going back to Thursday's game, the OKC pitching staff has allowed only one run over the last 23 innings, and Sandro Fabian's home run leading off the bottom of the fifth inning snapped a string of 18 consecutive scoreless innings. Over those 23 innings, the pitching staff has scattered eight hits, including only one inning with as many as two hits. Between Friday and Saturday, the pitching staff allowed just six hits and three walks while racking up 19 strikeouts…With relievers Tyler Cyr, Andre Jackson and Nick Robertson combining for four scoreless and hitless innings, theOKC bullpen has now allowed two runs and 14 hits over 36.1 innings across the last eight games.
-Starting pitcher Robbie Erlin allowed a season-low one run over five innings to earn his second win of the season. Erlin also tied his season low with four hits while allowing one walk and striking out five. The Dodgers are now 7-1 in his starts this season.
-Ryan Ward and Hunter Feduccia each picked up two hits to lead the offense. Ward also collected the team's only extra-base hit with a double, and he became the first Dodger this season to steal two bases in one game.
-Michael Busch went 1-for-4 and was hit by a pitch, extending his on-base streak with OKC to 23 games this season and 29 games going back to last season. He has hit safely in 19 of 23 games this year.
-The Dodgers set a season high with four stolen bases, but they also hit into a season-high three double plays.
What's Next: The Dodgers will look for their first-ever six-game series sweep during a Mother's Day matinee starting at 1:05 p.m. Sunday in Round Rock. Live radio coverage of each OKC Dodgers game begins 15 minutes before first pitch on AM 1340 "The Game," 1340thegame.com and through the free iHeartRadio or MiLB First Pitch apps.