MARSH FIRES SIX SCORELESS BUT WIND SURGE WALK-OFF ON NATURALS
Wind Surge score three in ninth to beat Naturals 3-2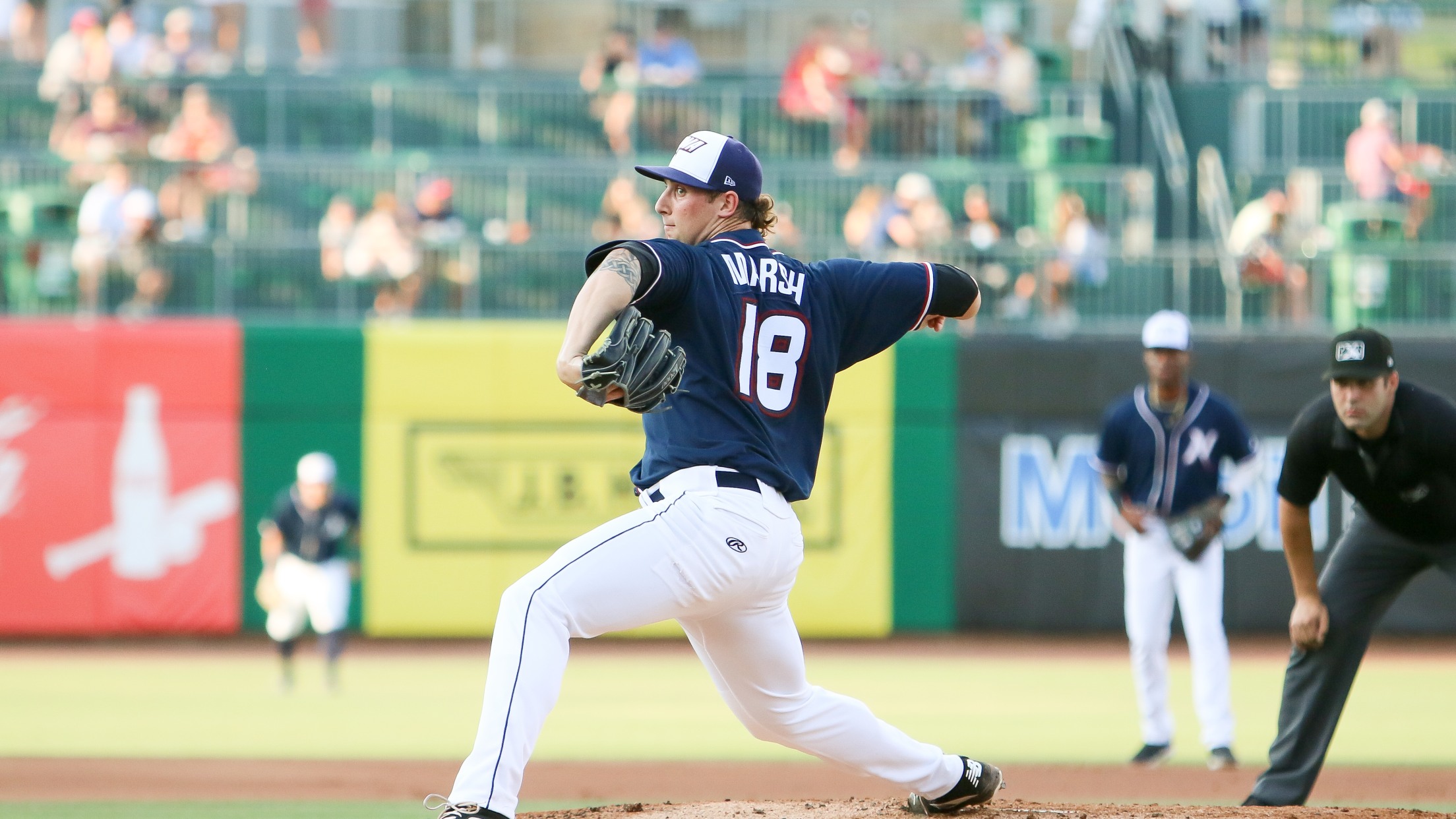 Alec Marsh struck out eight across six scoreless innings in a no-decision Saturday night. (Kelsey Chanler/NWA Naturals)
WICHITA, KS – Northwest Arkansas Naturals starting pitcher Alec Marsh kept the Wichita Wind Surge scoreless through six innings, but the Wind Surge struck for three runs in the bottom of the ninth to walk off, a 3-2 loss for the Naturals. Marsh turned in his first scoreless start since
WICHITA, KS – Northwest Arkansas Naturals starting pitcher Alec Marsh kept the Wichita Wind Surge scoreless through six innings, but the Wind Surge struck for three runs in the bottom of the ninth to walk off, a 3-2 loss for the Naturals.
Marsh turned in his first scoreless start since his Double-A debut on May 8, 2021, holding Wichita to just four hits and two walks over six scoreless innings, his third start of six innings or more this year. The right-hander struck out eight over a career-high 105 pitches, to bring his career strikeout total with the Naturals to 185, as he moved to ninth all-time in Naturals history for strikeouts and furthered his single-season record.
Northwest Arkansas gave the starter a couple of runs of support, as Jeison Guzmán singled in a run in the fourth, then Tyler Cropley homered in the seventh to double the lead to 2-0.
A 43-minute rain delay paused the game after Stephen Woods Jr. pitched a scoreless seventh inning, then Will Klein kept the Wind Surge off the board in the bottom of the eighth after play resumed.
The Naturals put two runners in scoring position with two outs in the top of the ninth but could not push across insurance and headed to the bottom of the ninth up 2-0.
Klein put the first two batters on in the bottom of the ninth, with an error and a walk, prompting Kasey Kalich to take over. Kalich got the first out of the inning with a long flyout, then a pair of walks loaded the bases and brought home a run to bring the Wind Surge within one. With the bases loaded and still just one out, a two-run single from Wichita third baseman Yunior Severino won the ballgame, the fourth walk-off loss this season for the Naturals.
Northwest Arkansas will look for a series split Sunday at 1:05 p.m. CT as left-hander Anthony Veneziano heads to the mound.