Prospect Q&A: Orioles infielder Henderson
No. 5 overall prospect on approach, Baltimore's loaded system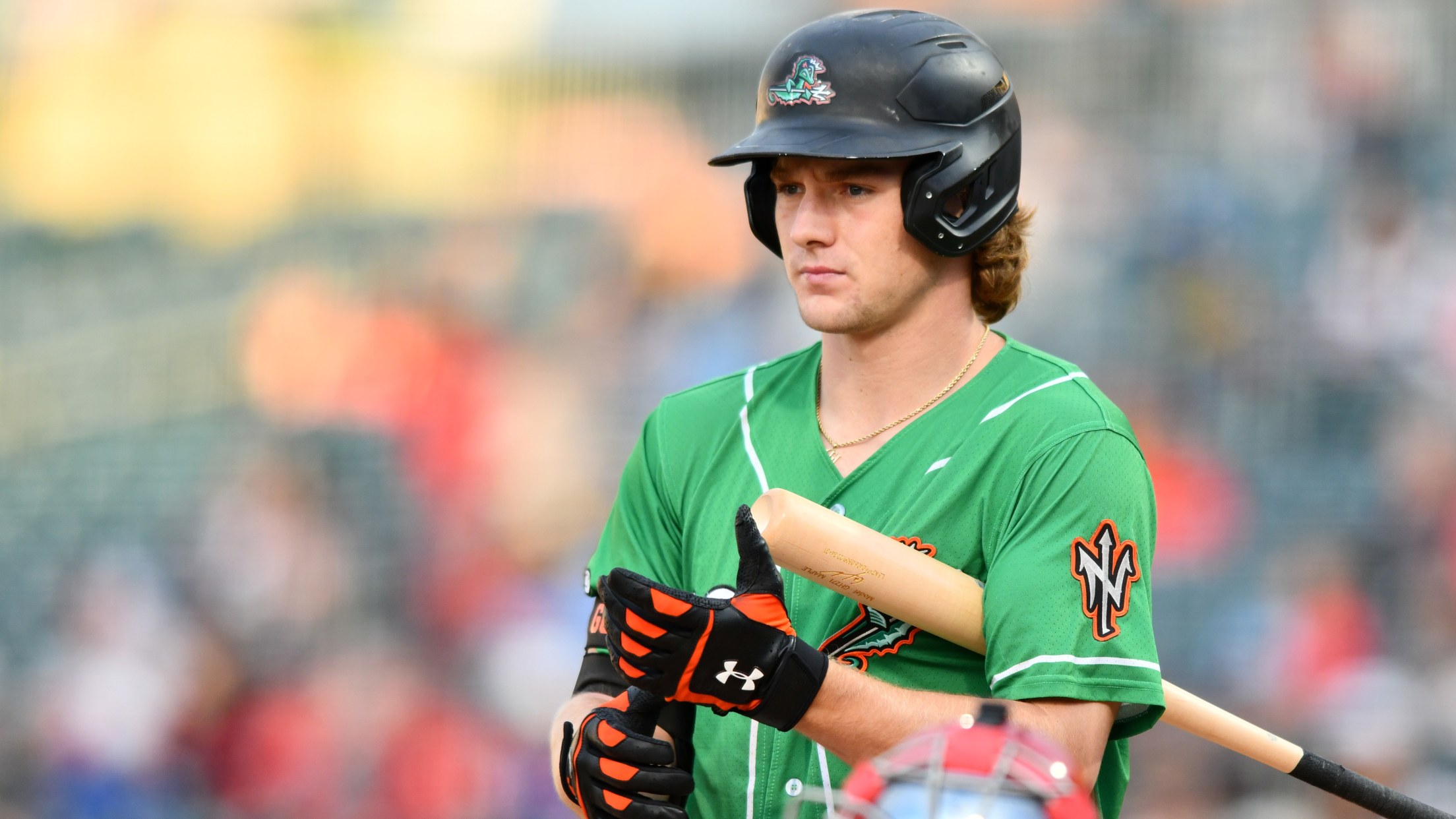 Gunnar Henderson earned a quick promotion to Triple-A Norfolk after just 47 games in the Eastern League. (Ken Iness/MiLB.com)
Even as the Orioles graduate some of the game's best prospects to the Majors, players like Gunnar Henderson still provide star power in a stacked farm system. At just 21 years old, Henderson has climbed to No. 5 in MLB Pipeline's overall prospect rankings and forced a quick promotion to
Even as the Orioles graduate some of the game's best prospects to the Majors, players like Gunnar Henderson still provide star power in a stacked farm system.
At just 21 years old, Henderson has climbed to No. 5 in MLB Pipeline's overall prospect rankings and forced a quick promotion to Triple-A Norfolk in June. Henderson made quick work of the Eastern League to start the season, batting .312 with a 1.025 OPS in just 47 games with Double-A Bowie before being promoted.
Since getting promoted, the Montgomery, Alabama, native has more than held his own at the Minors' highest level. Henderson entered the All-Star break batting .270/.393/.496 with 13 extra-base hits, including five homers, and 28 runs scored.
His work was recognized with a Futures Game appearance as he led off and scored twice for the American League squad. The second-ranked Orioles prospect reached base on a walk and a throwing error while playing third base.
Henderson is a natural shortstop, but he's played more total games at third this season. He's been at his natural position more since his promotion, but the Orioles have a wealth of impressive middle infield prospects, and Henderson has made the most of his defensive versatility.
In the latest Prospect Q&A, the 6-foot-2, 210-pound infielder discusses his approach at the plate and the offseason work that went into its formation. Henderson also talks about what it's like to grow and learn within one of the game's top farm systems and his work to get comfortable at the hot corner.
MiLB.com: You had a really good first half -- what was working for you?
Gunnar Henderson: I've really been able to hone in on my approach and just control the strike zone. I feel like that's been helping me to get pitches to hit -- controlling the strike zone and not swinging at the pitchers' pitches.
MiLB.com: Seems simple enough -- how did you hone that approach?
Henderson: We started with our, I think it was in 2020 during the offsite, we'd stick a medball, like a weight room medicine ball, behind the plate at the center of the strike zone. It kind of leaves off the corners. And when we face like mixed AB's and stuff against our hitting coaches, we'll have that instant feedback of the strike zone right there behind the plate. So just really being able to hone in on that and taking those close pitches because the pitchers are really good these days. They'll start pitches in the zone and they'll break out of the zone late. Being able to work on that and focus on it each and every day, I feel like that's really helped me.
MiLB.com: The numbers show that your strikeout rate is down from last year, so it seems the approach is working. How were you able to put it into practice?
Henderson: I feel like I always did a pretty good job of that. It's just last year, getting the experience of pro ball and all the levels. I felt like I'm just letting my body honestly adjust to it because I know that my body wasn't fully grown, and it grew a lot from like ninth or 10th grade. I was 170 or 180 pounds in ninth-10th grade, so over time my body is just finally filled out. And being able to go through the offseason program, really hone in on strengthening all the smaller areas in my body, that's really helped my speed a lot.
MiLB.com: What was different about the offseason programs when your body changed?
Henderson: Mainly just getting all the smaller areas strengthened -- all the smaller muscles. I feel like over my high school days, I spent a lot of time building strength-wise, then when I got to pro ball they really wanted me to work on strengthening all the smaller muscles, the quick twitch muscles. I did that the past two offseasons and it's really been paying off.
MiLB.com: Do the body changes make that difficult or awkward?
Henderson: No, honestly. Just through high school playing basketball and football and all the other sports, I felt like that really helped my all-around game and being able to strengthen those smaller muscles. So, I just really honed in on it, staying with the work, always enjoy the weight room because that's where everything -- you get stronger, you prevent injury -- so I've really enjoyed being able to do that and seeing all the work pay off, especially this year.
MiLB.com: You're an important part of a really loaded farm system. What's it been like playing and learning alongside guys like Adley Rutschman and Grayson Rodriguez?
Henderson: Yeah, it's just a testament to how the Orioles have drafted great guys. We always want to help each other. It's been an awesome experience so far being able to just spend time with those guys and pick their brains on what works for them and just being able to see them go to work everyday, it's been really cool to see.
MiLB.com: Is there an understanding among top prospects of how important you are to a rebuilding organization? Like creating a culture as much as you're buying into one?
Henderson: We don't really worry about it. We just know all we can control is taking it day by day and putting in the work that we feel like we need to hopefully win a championship at the Major League level. We all just have that in our minds and go to work each and everyday and take it one step at a time.
MiLB.com: On the defensive side of things, you haven't stuck at shortstop exclusively.
Henderson: I've played third a little bit going through the summer circuit during high school. Even now when I got to pro ball, I feel like its been a pretty good transition. I still really enjoy playing shortstop, and just putting in work at third base. We've got [many] shortstops on our team. ... The work we put in with our infield coach here, I've really enjoyed the experience at third base, and I felt like I'm getting a lot better at third and really a lot more comfortable at it. That's been really fun and whichever one gets me to the big leagues faster, I'll be happy to play.
MiLB.com: You have your double play partner in Jordan Westburg, a Mississippi State guy. You were an Auburn commit and your brother played there a couple seasons. Is there a little SEC rivalry with Westburg?
Henderson: There's not much. I'm sure if I would've actually gone there there could've been a little bit more. It's cool to be able to see how into it he is with them. I've always been a diehard Auburn fan. But, of course, we have our own pride for our school but there hasn't been much rivalry. Probably because I didn't eventually go there.
MiLB.com: You were a pretty big basketball recruit in high school. Do you still get to shoot around?
Henderson: Yeah, my little brother he still plays so I'll just shoot around with him at the house or something like that. I haven't really gotten to play much. They put it in my contract that I can't play any pick-up games of basketball, but I shoot with my little brother back at home because he plays. And I'll help him with whatever he needs. But yeah, just kind of shoot with him and have some fun.
MiLB.com: Lastly, what does a successful 2022 season look like for you?
Henderson: Honestly, just getting the experience. I feel like I just want to get the full experience of the upper levels of baseball because I'm still 20 right now, and I feel like there's really no set goal. I'm just trying to get the most experience I can. Just putting in the work each and every day, I feel will take me where I want to be.