Perez, Cedeno Homer in Sunday Loss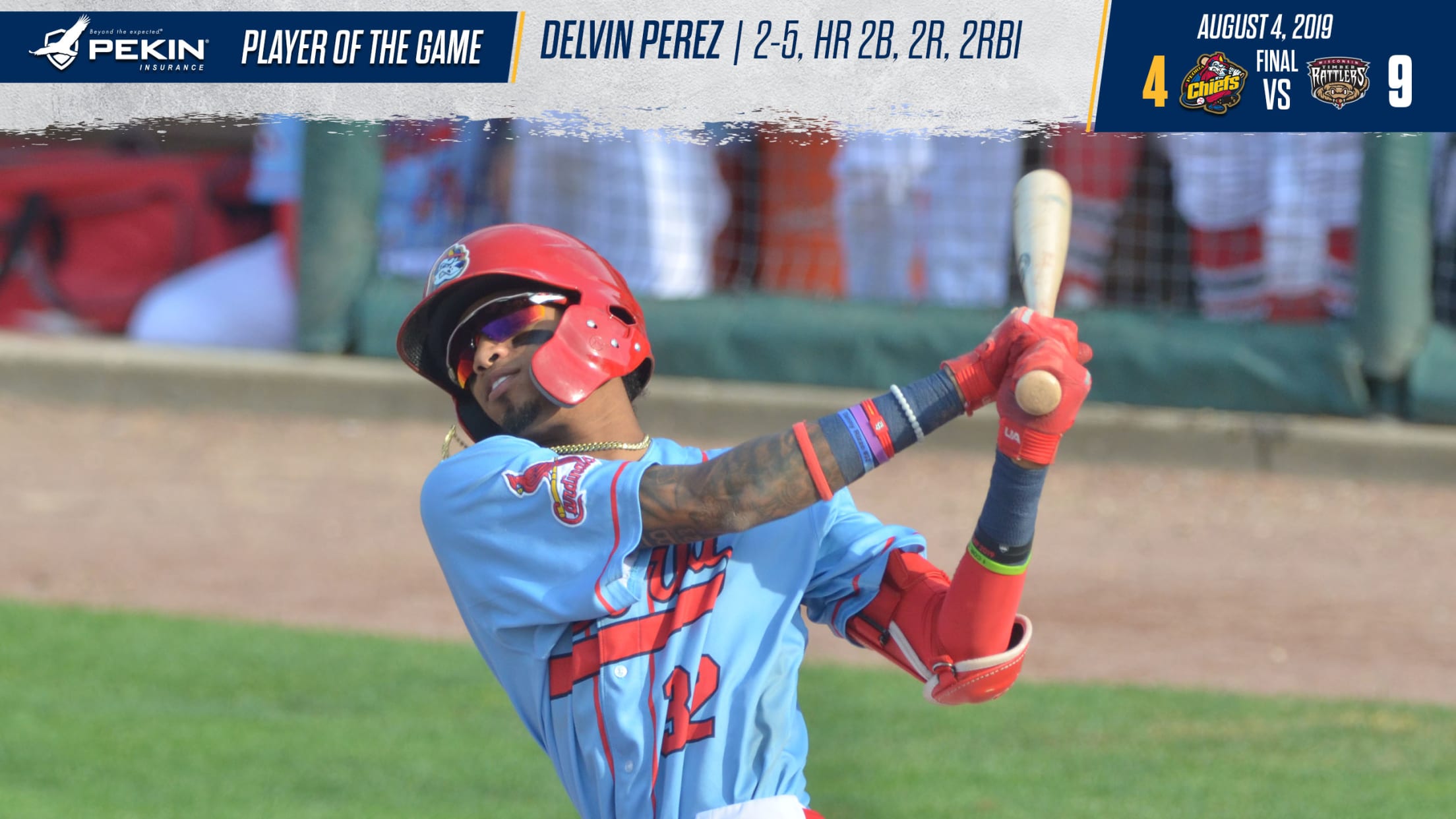 Appleton, WI - The Peoria Chiefs got homers from Delvin Perez and Leandro Cedeno Sunday afternoon but they fell to the Wisconsin Timber Rattlers 9-4 as the series is now tied up with two games to play. With his first homer of the season, a double, two runs scored and
Appleton, WI - The Peoria Chiefs got homers from Delvin Perez and Leandro Cedeno Sunday afternoon but they fell to the Wisconsin Timber Rattlers 9-4 as the series is now tied up with two games to play. With his first homer of the season, a double, two runs scored and two RBI, Perez was named the Pekin Insurance Beyond the Expected Player of the Game.
Down 1-0 the Chiefs took the lead in the fifth inning against Reese Olson. Edwin Figuera led off with the Chiefs third double of the game. With two down, Perez launched a deep fly ball to left that carried over the 16-foot high wall by the videoboard for a two-run homer and a 2-1 Chiefs lead. Perez sprinted around the bases with his first dinger of the season and got the traditional silent treatment in the dugout.
Wisconsin scored five runs in the sixth against Mike Brettell and Franyel Casadilla to regain the lead. After Casadilla allowed a homer in the sixth, the Chiefs got on the board again in the seventh against reliever Freisis Adames. Perez doubled to right-center and with two down he scored on a single up the middle by Imeldo Diaz to cut Wisconsin's lead to 7-3.
The Chiefs grabbed their final run of the game in the ninth against Adames. Cedeno led off with a solo homer to left, his fifth of the season and the Chiefs fourth homer in the last two games. Adames got through the rest of the inning as Wisconsin won the game 9-4.
Brettell took the loss as he allowed five runs over 5 1/3 innings. Casadilla allowed two inherited runners to score then gave up two runs of his own. Leonardo Taveras allowed the last two runs in the eighth inning.
The series continues Monday at 6:35 p.m. The broadcast can be heard, starting with the Pre-Game Show at 6:20 p.m. on the Peoria Chiefs Tune-In Page, which is free and also has a free app for smartphones and tablets.
The Chiefs return home Saturday, August 10 for a three-game series against the Clinton LumberKings. Individual game tickets, group tickets and season ticket packages, including full-season, a 35-game ticket package, an 18-game ticket package or a Flex Plan are currently on sale by calling 309-680-4000. Individual game tickets are also on sale with the Dozer Park Box Office open Monday - Friday from 10:00 am - 5:00 pm and online at www.peoriachiefs.com which also lists all of the season's promotions. Game times and promotions are subject to change.