Matt Gorski hits two HRs, leads league in RBIs
Abrahan Gutierrez also homers for Hoppers; Jacob Gonzalez's hitting streak snapped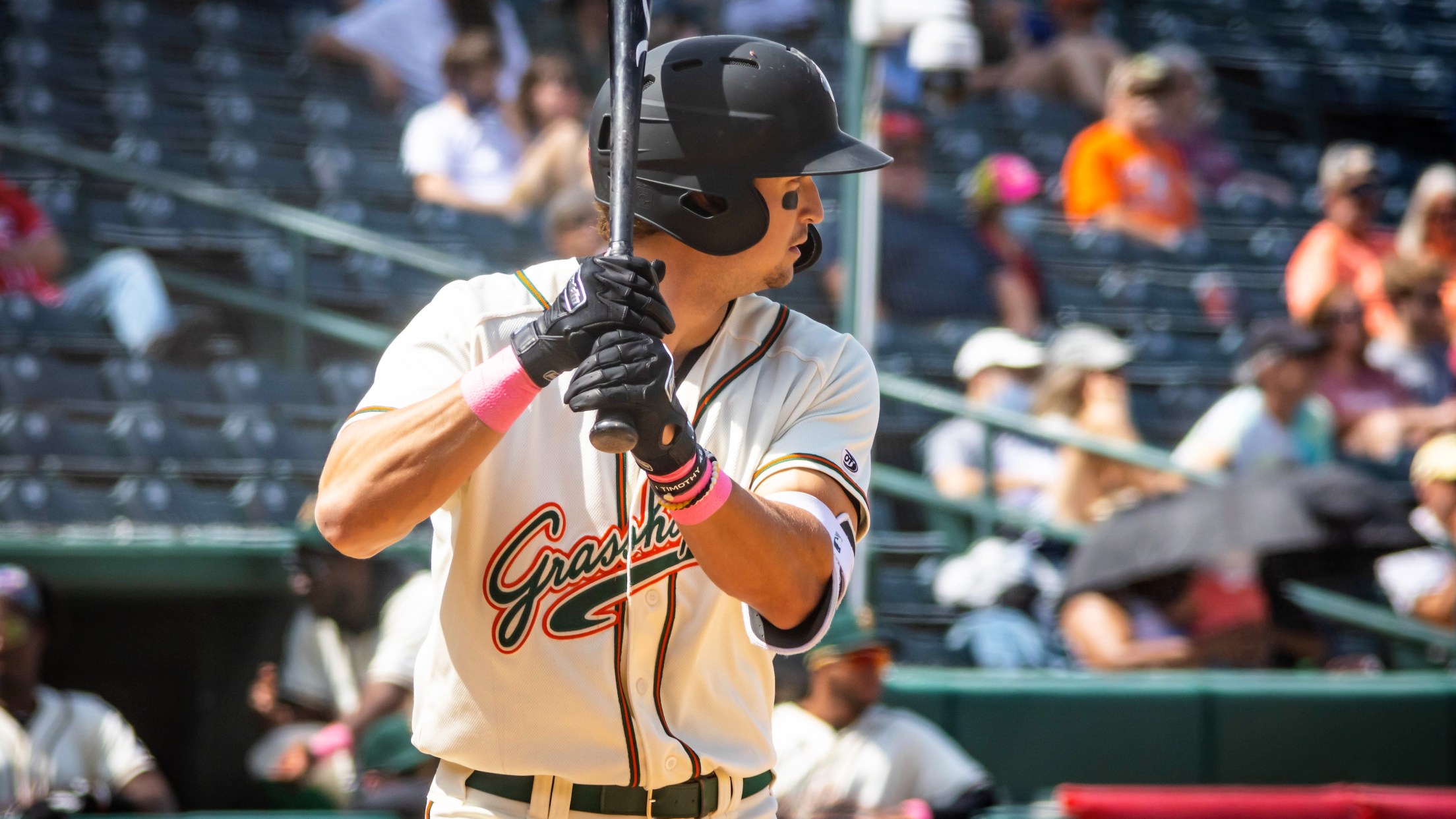 Greensboro Grasshoppers center fielder Matt Gorski. (Jak Kerley/Greensboro Grasshoppers)
GREENSBORO ― Matt Gorski hit 847 feet worth of home runs and drove in four runs, Abrahan Gutierrez smacked a ball off the scoreboard, and Greensboro's bullpen shut down Bowling Green's offense as the Grasshoppers beat the Hot Rods 7-3 at First National Bank Field on Wednesday night. Gorski homered
GREENSBORO ― Matt Gorski hit 847 feet worth of home runs and drove in four runs, Abrahan Gutierrez smacked a ball off the scoreboard, and Greensboro's bullpen shut down Bowling Green's offense as the Grasshoppers beat the Hot Rods 7-3 at First National Bank Field on Wednesday night.
Gorski homered twice. He hit a solo shot past the Wrangler sign and clock in left-center field, a blast that measured 437 feet and left the bat at 107 mph. He then gave the Hoppers a 5-3 lead in the fifth inning with a three-run shot to left-center that traveled 410 feet with a 101 mph exit velocity.
First baseman Jacob Gonzalez, the South Atlantic League player of the week, went 0-for-4 to snap a six-game hitting streak. Gonzalez had hits in every game since joining the Hoppers until Wednesday, and he's still a blistering 15-for-27 (.556) with four home runs and eight RBIs.
Gorski and Gutierrez picked up any slack.
Gorski now leads the South Atlantic League with 31 RBIs. He ranks second in both home runs (12) and runs scored (28), and third in OPS (1.027). Gorski went 2-for-4 to raise his batting average to .279. He has hit safely in seven of his last eight games, and he has been on base in 30 of 33 games played.
Gutierrez went 2-for-4 with an RBI single and his two-run opposite-field home run off the scoreboard in right-center field.
Big right-hander Eddy Yean (1-1) picked up the win with 1 1/3 scoreless innings of relief, coming on in the top of the fifth inning for starter Nick Garcia. Yean struck out three, and Garcia struck out five.
The back end of the bullpen was superb. Cameron Junker, Nick Dombroski and Tyler Samaniego each pitched a scorless inning, and all three relievers retired the side in order as Hoppers pitchers sat down 10 in a row to end the game.
Bowling Green's Alika Williams went 2-for-4 with a home run, and he drove in all three of the Hot Rods' runs.
NOTES
Hoppers pitchers walked four and struck out 12.
Greensboro's offense was efficient, leaving just three men on base and going 3-for-8 with runners in scoring position.
Hudson Head moved into the lead-off spot in Greensboro's order, and he went 1-for-3, was hit by a pitch and scored twice. Head, a 21-year-old outfielder rated by MLB Pipeline as the No. 22 prospect in Pittsburgh's farm system, has hits in 11 of his last 12 games. He has reached base in 17 of his last 18 games.
First baseman Jacob Gonzalez, the 23-year-old son of former big-league All-Star Luis Gonzalez, batted .393 with 11 doubles, four home runs and 16 RBIs in 24 games for the Bradenton Marauders before his promotion to Greensboro. He was a second-round pick of the San Francisco Giants in 2017, turning pro right out of high school, and is in his fifth minor-league season.
Hoppers left-hander Tyler Samaniego (1-1, 2 saves) made his 12th appearance of the season, working the ninth inning and lowering his ERA to 0.63. He has struck out 20 in 14 1/3 innings and held opponents to an .061 batting average.
In his career at the News & Record, journalist Jeff Mills won 10 national and 12 state writing awards from the Associated Press Sports Editors, the Society for Features Journalism, and the N.C. Press Association.