Yankees' Wagaman goes deep twice, plates six in pro debut for Pulaski
New York's 13th-round pick blasts two homers, drives in six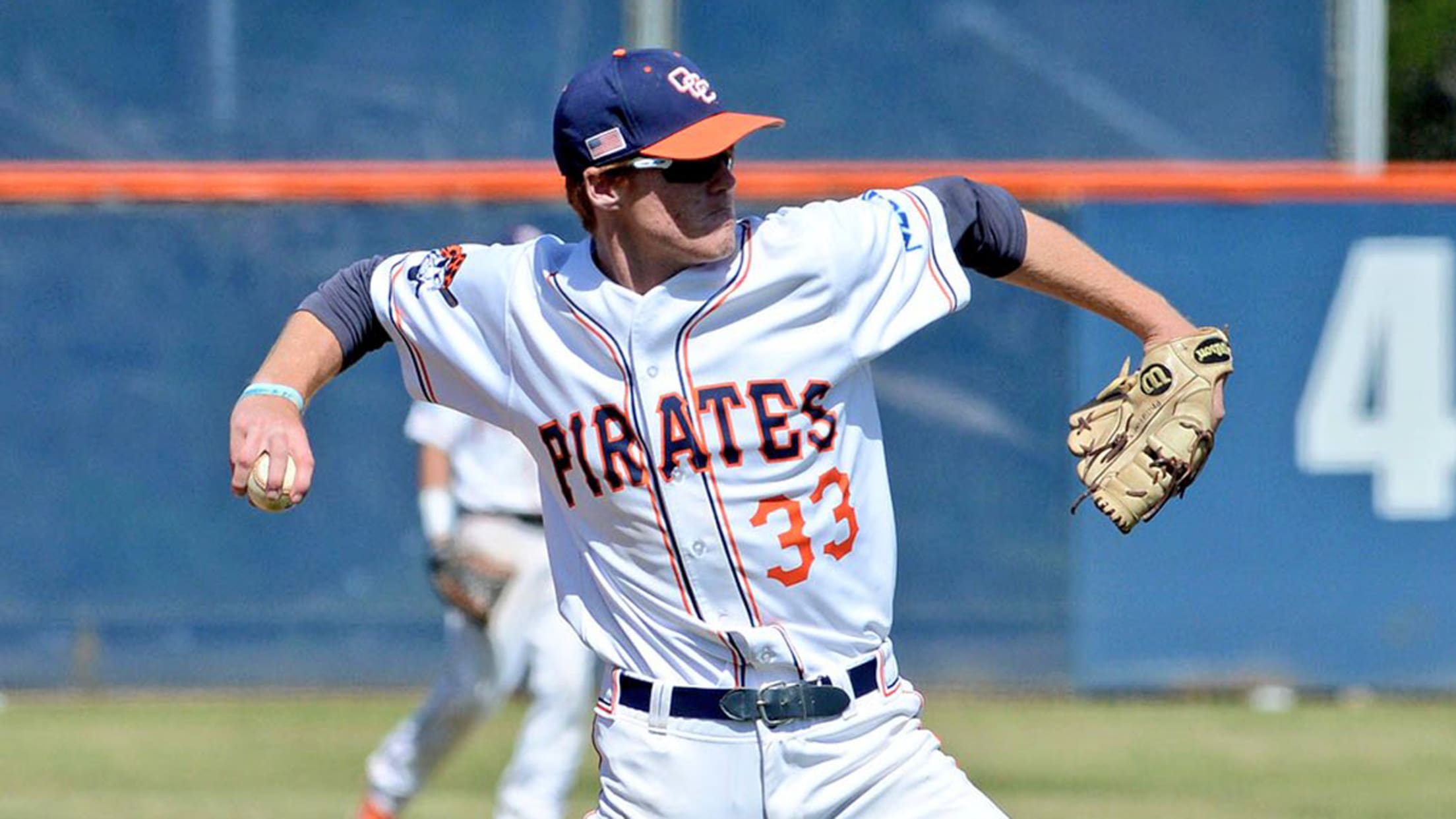 Eric Wagaman joined the Yankees after two seasons with the Orange Coast College Pirates. (Orange Coast College)
Eight days ago, Eric Wagaman was taking cuts under the California sky awaiting the next chapter of his baseball life. On Thursday, over 2,000 miles away from home, he really penned a statement.The Yankees' 13th-round Draft selection blasted two homers and drove in six runs in his professional debut, powering
Eight days ago, Eric Wagaman was taking cuts under the California sky awaiting the next chapter of his baseball life. On Thursday, over 2,000 miles away from home, he really penned a statement.
The Yankees' 13th-round Draft selection blasted two homers and drove in six runs in his professional debut, powering Rookie-level Pulaski to a season-opening 7-2 win over Princeton at Calfee Park.
"I'm still kind of shocked," Wagaman said. "I don't think I've ever gotten six RBIs in a game before. It was just really exciting and pretty cool."
Gameday box score
Last Wednesday, the 19-year-old was in the middle of a batting practice session with his summer league team back home in California when he got an important call.
"I went back to check my phone after I finished hitting and I was just blowing up, people saying congratulations and all that," Wagaman said.
With the 392nd overall selection in last week's First-Year Player Draft, the New York plucked the Orange Coast College product. That was Wednesday. By Thursday, the Yankees told him he'd be headed to their Florida facility and his start in the Minor Leagues.
"I was like, 'What? I'm not even ready,'" Wagaman laughed. "But I packed everything up and flew to Tampa and played in a couple scrimmage games there. Now I'm in Pulaski, Virginia. I've never been out here before, but it's actually a pretty nice area."
After heading north, he got settled in with the Appalachian League team this week. On Opening Night, the first baseman took up his spot at first base and in the No. 5 spot in the Pulaski lineup. He made a quick impact by belting a homer to left-center field in the sixth inning.
"I noticed my first two at-bats when I got out, I was pulling off the ball a little bit," he said. "Those next two at-bats, I made an adjustment and tried to stay on the ball a little longer. The first one, [Princeton reliever Cristopher Sanchez] threw a fastball away, and it had some run on it, so I was really trying to take it the other way. He threw a changeup, and I was just able to sit back. My timing was still on."
The three-run shot gave the Yankees their first lead of the night and the season. Two innings later, Wagaman added to it with a two-run blast, again to left-center off Princeton's Thomas Lebron.
"It was 1-2 and he just threw a fastball right down the middle, and I got my arms extended on it," he said.
With the common language of baseball uniting a freshly mixed roster, the celebration went off without a hitch.
"I've known these guys maybe for like a day or two now, but it was really cool," Wagaman said. "They were all really supportive, and they were fired up about it too."
Pulaski's top five hitters combined for all seven of the team's hits in the victory. Designated hitter Andres Chaparro drove in the only other run of the night with an RBI groundout to short in the sixth.
"The guys in front of me were getting on base, and obviously made it a lot easier for me to drive them in," Wagaman said. "The guys who were hitting in front of me and even behind me, they can really swing it. I've never played against obviously professional competition or anything like Team USA, I've never done any of that kind of stuff. Playing with a team that is able to swing it from 1-9, it's cool being able to play around these guys."
From a junior college in California to pro ball in Virginia to a career night in quick succession, Wagaman will remember his first night as a professional ballplayer for a long time to come.
"That part hasn't really hit me, but I know it will," he said. "I'm still kind of shocked that I did that, but it was a cool feeling. I don't know how I'm going to sleep. I'm still pretty excited and wish we were still playing right now."
Tyler Maun is a contributor to MiLB.com. Follow him on Twitter @TylerMaun.