2022: What A Year In Somerset!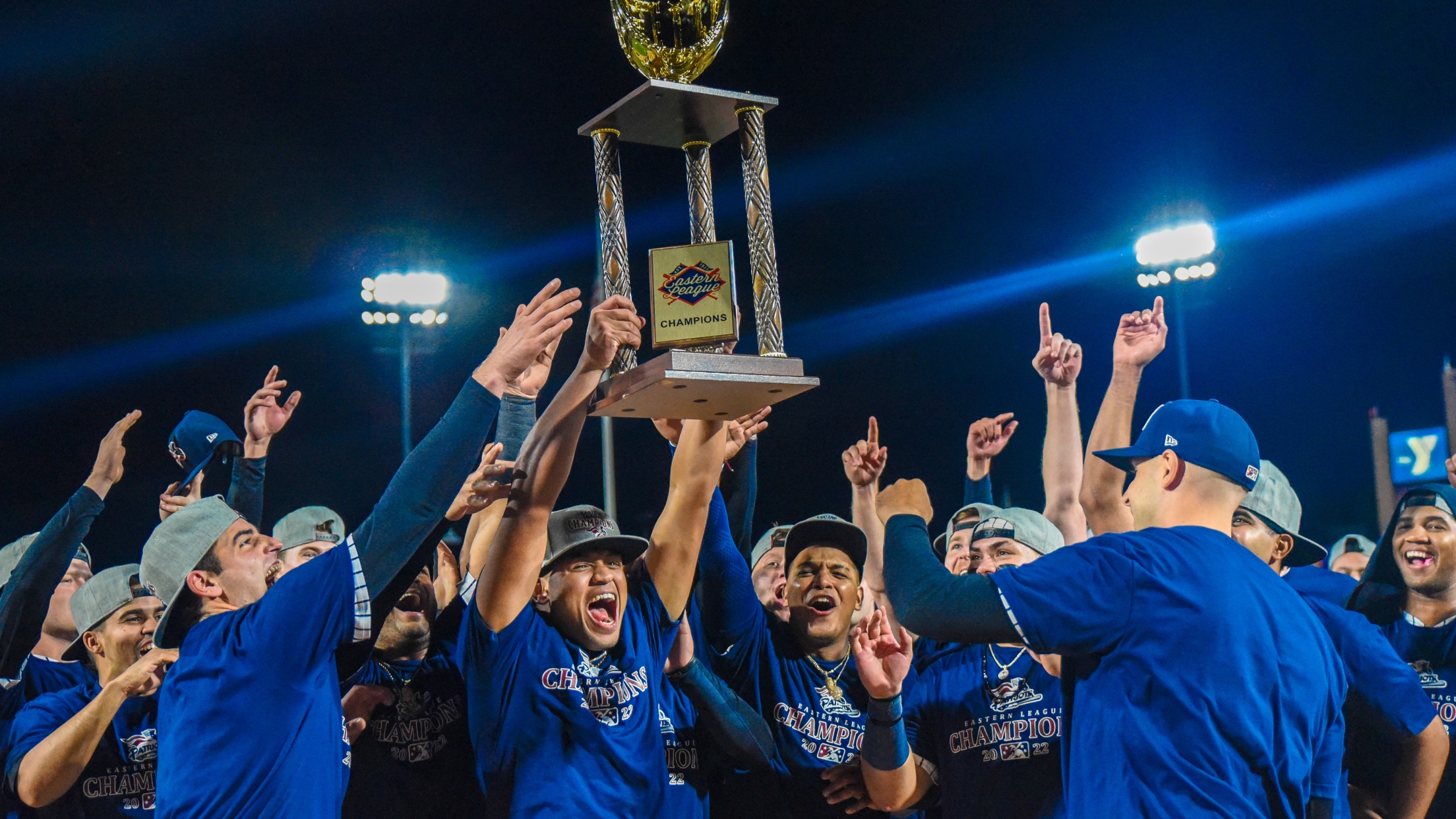 Bridgewater, New Jersey – The 2022 Somerset Patriots season was a blockbuster with a championship ending made for Hollywood. Record-breaking performances on the field, combined with unprecedented excitement for the team and organization, made 2022 one that won't be forgotten anytime soon.
Bridgewater, New Jersey – The 2022 Somerset Patriots season was a blockbuster with a championship ending made for Hollywood. Record-breaking performances on the field, combined with unprecedented excitement for the team and organization, made 2022 one that won't be forgotten anytime soon.
THE SOMERSET PATRIOTS ARE 2022 EASTERN LEAGUE CHAMPIONS BY WAY OF A NO-HITTER 15-0 SHUTOUT!!!🏆 pic.twitter.com/jjwe2wf0my

— Somerset Patriots (@SOMPatriots) September 29, 2022
Champions Again, For The First Time
The Patriots won their first Eastern League Championship as the New York Yankees Double-A affiliate in their second season as part of the organization.
After dropping the first game of the series on the road against the Erie SeaWolves (Detroit Tigers), Somerset was dominant at home, winning back-to-back games to clinch the title.
In the decisive Game 3, RHP Randy Vasquez and RHP Carson Coleman combined for a no-hitter with C Austin Wells in a 15-0 route. Vasquez, the Yankees No. 15 prospect, pitched eight innings and struck out eight in one of the most masterful performances fans will see in a postseason outing.
Yankees top outfield prospect Jasson Dominguez (No. 2) hit home runs, one from each side of the plate, and drove in six runs to lead the way. During an impressive postseason, "The Martian" went 9-for-20 with three home runs and ten RBIs.
In Somerset's five-game postseason, Dominguez led the Patriots in just about every offensive category, including BA (.450), OBP (.560), SLG (.950), OPS (1.510), RBI (10), R (7), BB (5) and HR (3).
After 15 postseason appearances and six championships as an independent club, 2022 marked Somerset's first as an affiliated MiLB team.
The Patriots swept the Portland Sea Dogs (Boston Red Sox) in the best-of-three Eastern League Divisional Series. The series began in Portland with the Patriots establishing their postseason offensive dominance with an eight-run fourth inning to win Game 1.
Yankees No. 27 prospect OF Brandon Lockridge's walk-off single in the 10th inning of Game 2 in Bridgewater advanced Somerset to the Championship Series.
ANTHONY VOLPE WALK-OFF HOME RUN TO SEND US TO THE POSTSEASON!! pic.twitter.com/zG8hNpbiPx

— Somerset Patriots (@SOMPatriots) June 26, 2022
Coming Home
The season began with a splash when the organization's No. 1 prospect and Somerset County native Anthony Volpe was assigned to the team. The attention and expectations around the highly touted shortstop were astronomical, but Volpe was everything he was advertised to be and more.
Once he got into a groove, he led the team in almost every offensive category. At the time of his promotion to Triple-A, Volpe was the team leader in home runs (18), RBIs (60), SLG (.472), H (106), 2B (31), 3B (4, T-1st), XBH (53), TB (199), R (71), multi-hit games (26) and SB (44). He also ranked second on the team in BA (.251), OPS (.820) and BB (57) and third in OBP (.348), making it so that he ranked top three on the team in 16 different offensive categories.
Volpe had a penchant for clutch hits all season. His 10th home run of the season was a walk-off two-run blast in extra innings that clinched a playoff berth for Somerset in a winner-take-all match up against the Hartford Yard Goats on the final day of the first half.
Somerset is STACKED🤩 pic.twitter.com/rGHUb0dLVC

— Somerset Patriots (@SOMPatriots) September 14, 2022
Top Of The Heap

In addition to Volpe, Somerset's roster throughout the season included 13 of New York's top 30 ranked prospects. Dominguez was a late addition to the roster in September after the High-A season ended in Hudson Valley.
Upon his call up to Double-A, Wells (No. 4) excited fans with his power, leadership and clutch hitting. Since joining the team on July 5, no player on the team had more RBI (43, 2nd in EL) than Wells. In the postseason, he hit .318 with seven hits, two doubles, a home run and eight RBIs.
The Patriots saw some of the top arms in the system in No. 8 prospect RHP Will Warren and the organizational debut of No. 9 prospect RHP Clayton Beeter, who was acquired in the deal for OF Joey Gallo from Los Angeles.
Fellow top-15 ranked Yankees pitching prospects, RHP Yoendrys Gomez (No. 12) and Vasquez started the second and third no-hitters in Patriots franchise history, both in September.
No. 20 prospect OF Elijah Dunham led the team in RBI (63) and impressed with his highlight reel defense on a regular basis.
𝐋𝐚𝐝𝐢𝐞𝐬 𝐚𝐧𝐝 𝐠𝐞𝐧𝐭𝐥𝐞𝐦𝐞𝐧, your 2022 Somerset Patriots Home Run 𝐊𝐢𝐧𝐠, with 19 home runs, Andres Chaparro.👑 pic.twitter.com/IX41RXN7yB

— Somerset Patriots (@SOMPatriots) September 19, 2022
On The Radar Now

INF Andres Chaparro had a monster year for Somerset in which he led the team in home runs (19).
Since Chaparro came off the IL on August 4, he ranked among the Eastern League leaders in RBI (36, 1st), SLG (.683, 1st), HR (11, T-1st), OPS (1.093, 2nd), TB (86, 2nd), BA (.333, 3rd), OBP (.410, 4th) and H (42, T-6th).
Somerset has been special this season😮‍💨 pic.twitter.com/P2vq4gkmHO

— Somerset Patriots (@SOMPatriots) September 19, 2022
You're The Best Around
For the regular season, the Patriots finished 83-53, marking the fourth-best record in all of MiLB. The Patriots led all of Double-A baseball in ERA (3.60, 3rd in MiLB), WHIP (1.17, 1st), BAA (.218, 1st), HR (205, T-3rd) and SB (205, 11th).
Records Are Meant To Be Broken
This year's squad shattered team records on both sides of the ball. For the second time as the Yankees Double-A affiliate, the Patriots set new team season-highs in home runs (205) and strikeouts (1,359). The Patriots' 205 home runs this season were hit by a combination of 21 different players.
In addition, the offense set a new mark for total bases (1,984) and players with 10 or more home runs (11).
BASTIDAS CALLS GAME.

Jesus Bastidas crushes a three-run walk-off home run😱 pic.twitter.com/YE6A9LhRPd

— Somerset Patriots (@SOMPatriots) July 24, 2022
Career Years
Several Patriots had breakout seasons and smashed their previous career-highs in the stat columns this year.
Eight players set career highs in home runs while playing for Somerset including INF Jesus Bastidas (18), INF Max Burt (11), Chaparro (20), Dunham (17), Lockridge (14), OF Blake Perkins (15), OF Jeisson Rosario (11), and Wells (20).
Other season career-highs were Wells: OPS (.897), SLG (.512), BA (.277);Chaparro: OPS (.962), SLG (.592); Dunham: RBI (63), BB (59), SB (37), 3B (3), 2B (26); Rosario: RBI (39); Bastidas: R (56), RBI (55), BB (38), TB (169), H (95), 2B (18); and INF/C Mickey Gasper: OBP (.407).
🚨BADER BOMB🚨

Harrison Bader has his first home run for the @Yankees organization. #RepBX pic.twitter.com/YgQBDS8bLY

— Somerset Patriots (@SOMPatriots) September 14, 2022
MLB Rehab Assignments
The Patriots welcomed 11 MLB rehab assignments (10 players) throughout the season. LHP Aroldis Chapman was the first to appear for Somerset and pitched in four total games on two different stints. Chapman was the only player to appear on rehab two separate times for the Patriots in 2022.
Somerset saw the return of 2021 pitching stars RHP Ron Marinaccio and RHP Stephen Ridings, both who began last season with the team and made their MLB debuts since.
While on the road, Bowie's fans were treated to OF Giancarlo Stanton serving as the DH for two games. Hartford saw a rehab start by RHP Luis Severino on his way back to the big league club.
OF Harrison Bader, who was acquired in a trade for LHP Jordan Montgomery, made his Yankees organizational debut with the Patriots and impressed with his offense and glove in center field.
The 2021 Double-A Northeast MVP has been called up to the Bronx. Best of luck, Oswaldo Cabrera!🔥 pic.twitter.com/IPqQOt6hPv

— Somerset Patriots (@SOMPatriots) August 17, 2022
MLB Debuts
10 former Patriots also made their MLB debuts during the 2022 season. Most notably, three Yankees were part of last year's roster in Somerset. UTL star Oswaldo Cabrera first made himself known for a tremendous 2021 season where he was named the Double-A Northeast League MVP.
No. 3 prospect SS Oswald Peraza excelled in Triple-A this year before his call up, but starred for Somerset through a very successful 2021 campaign.
Marinaccio has been one of New York's most dependable relievers since making the big league roster in April.
Former Patriots no longer with the Yankees that made it to "The Show," include LHP Ken Waldichuk (Oakland A's), INF Dermis Garcia (Oakland A's), and RHP Hayden Wesneski (Chicago Cubs).
SAUER WAS SWEET TONIGHT!@Yankees prospect Matt Sauer sets a new career and Patriots single-game record with 1⃣7⃣Ks🤯 #PatriotsInPinstripes #RepBX pic.twitter.com/TjcaaLewLb

— Somerset Patriots (@SOMPatriots) August 26, 2022
A Sweet Night For Sauer
RHP Matt Sauer struck out a career single-game high 17 batters on August 25 versus the New Hampshire Fisher Cats (Toronto Blue Jays).
Through eight stellar innings, also a career high, Sauer broke Somerset's franchise single-game mark originally set in 2000.
Sauer threw 95 pitches, 75 for strikes, during his record-breaking performance for Somerset. The 17 strikeouts were the most by any pitcher in MLB or MiLB this season and the highest strikeout total in affiliated baseball since 2019 (Randy Wynne, Cincinnati).
During the performance, Sauer struck out seven straight and 12 out of the first 14 batters faced.
Congratulations to RHP Yoendrys Gomez, RHP Steven Jennings and C Rodolfo Duran on the second no-hitter in Patriots' franchise history. pic.twitter.com/iL2qSK8GGX

— Somerset Patriots (@SOMPatriots) September 8, 2022
No-No Again
On September 7, Somerset pitched a combined no-hitter, its second in franchise history. In the second game of a double header in Hartford, Gomez (5IP), RHP Steven Jennings (2 IP) and C Rodolfo Duran shutdown the Yard Goats to accomplish the feat.
Despite several close calls, the Patriots never had a no-hitter in 21 seasons as an independent team. Most recently, LHP Rick Teasley pitched nine perfect innings in a game on July 26, 2019, but the team ended up losing perfection and the game in the tenth.
Since becoming the Yankees Double-A affiliate in 2021, Somerset have now posted three of the rare feats.
Another sold out Saturday with 7,100+ of our closest friends! pic.twitter.com/uBr9X01qbp

— Somerset Patriots (@SOMPatriots) August 7, 2022
Packing The Park
After dealing with Covid-19 restrictions opening the ballpark early last season, the Patriots were able to go into the 2022 season operating at 100% capacity. This allowed the team to welcome 351,142 fans for an average of 5,241 per game.
The Patriots had 20 sell outs (above 6,100) of TD Bank Ballpark of the 67 openings, with a season-high of 8,069 on June 25 vs. Hartford.
We have our 2023 schedule👀

Here's our home schedule with Opening Day set for Thursday, April 6 at TD Bank Ballpark❗️ pic.twitter.com/gmlG5tlUNP

— Somerset Patriots (@SOMPatriots) August 30, 2022
2023 Season
While the celebration will continue into the 2023 season, the Patriots staff is already hard at work planning for next year. Somerset opens at home on Thursday, April 6 against the Harrisburg Senators (Washington Nationals).
And while 2022 will be a tough season to top, everyone within the organization is ready for the challenge.
See you in 2023!