Q&A With...: Renegades GM Tyson Jeffers
Get to meet the new GM of the Hudson Valley Renegades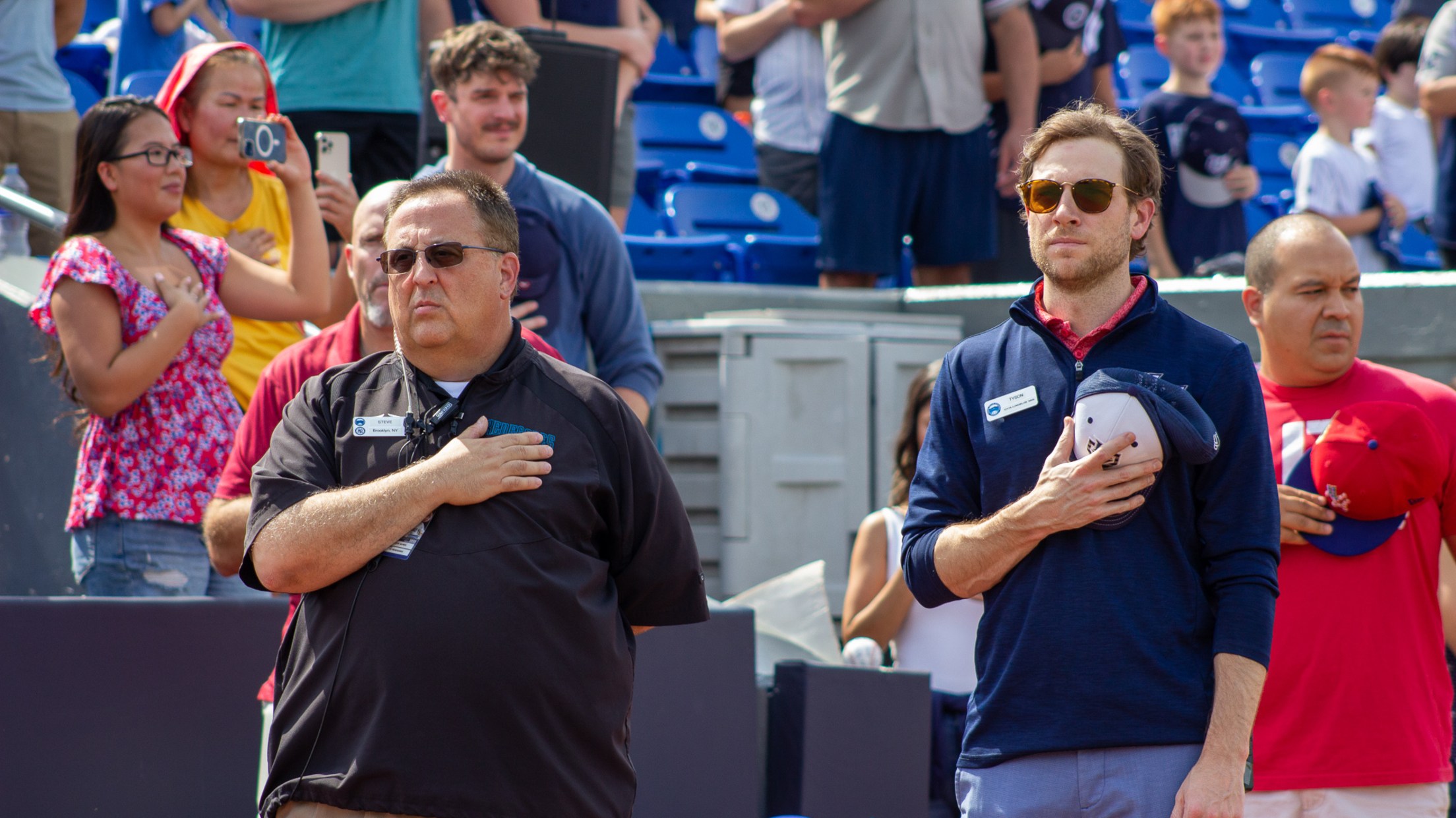 Steve Gliner (l.) and Renegades GM Tyson Jeffers (r.) on the field at Dutchess Stadium.
On Sept. 6, 2022, Tyson Jeffers was elevated to the role of General Manager of the Hudson Valley Renegades. After just a few weeks on the job, we had a chance to catch up with Tyson to talk about his journey through baseball to the Renegades. He started with the
On Sept. 6, 2022, Tyson Jeffers was elevated to the role of General Manager of the Hudson Valley Renegades. After just a few weeks on the job, we had a chance to catch up with Tyson to talk about his journey through baseball to the Renegades. He started with the Renegades in March 2020 after spending eight years with the St. Paul Saints, another club owned by the Goldklang Group, the Renegades' former ownership group.
Hudson Valley Renegades: Help us get to know you a little bit. What is your background and how did you get to the Hudson Valley?
Tyson Jeffers: I'm originally from Mississippi. That's where I was born and raised. After college, I moved to Minnesota for my first real big boy job with the St. Paul Saints, who are the Triple-A affiliate for the twins. Now, when I started with them, they were an independent team, playing at a small, rinky-dink ballpark, just outside of St. Paul. I started as a ticket salesperson, worked my way up through the ranks a little bit, ended up as the director of corporate partnerships with them in their new facility, CHS Field, and got to spend some time there. When I was offered this opportunity here in Hudson Valley, I jumped at it to make that next step up.
HVR: So now that you've been here for a couple of years, what has been your favorite part about the Hudson Valley and working with the Renegades?
TJ: The Hudson Valley in general is just a beautiful area that I mean, we're sitting outside on a 66-degree day, sunny, you know, all the mountains and the river look amazing. So beautiful landscape, it's great to be as close to the city as we are where you can get the fun of the city but still be distant enough to not deal with all the sometimes craziness of the city. But I love it. I think the thing that attracted me the most about the job with the Renegades and being here and staying here specifically is the opportunity for growth not only for myself, but for the team. We have a lot of amazing things that are happening over this offseason, which I'm really excited about. We've got a lot of new faces that people saw over the course of this season, that now have a year under their belt that are going to make a huge impact for our team. So it's just really exciting to see all that we can do together as a group and an organization.
HVR: You mention some exciting things. Can you give us a tease of some of the things that are in the works?
TJ: Sure, yeah. We're looking out at the old plywood outfield wall, which probably won't be there in a couple of weeks, which is exciting, it will make the ballpark look and feel very different once we get the new wall up and it's nice and padded. The players are going to feel a little bit safer out there running into and making home run catches and those types of things. So that's going to be a huge piece, just from a visibility standpoint for the fans, and for the players, too, on their safety. Along with that we're investing a lot of money in renovating the interior portion of our current clubhouse, which will house the Renegades in the 2023 season, and will bring in a whole system for the visiting team to house in which will actually probably end up be a little bit nicer facilities than what they're currently in. There will be more space and better equipment and those types of things in their temporary facility. And then eventually, our team will move to a state-of-the-art clubhouse that is being built down in our left field corner, which would open in 2024. So there's a lot of awesome things that are happening over the course of this offseason.
HVR: So basically fans are gonna come to The Dutch next year and notice some very major differences from just what everyone saw this year and in years past. That's obviously exciting. I know for you coming from independent ball in St. Paul and now being affiliated with the Yankees, a little bit of a longer season, and al. that, what's been the biggest thing for you making the transition career-wise and what you've actually done and learned in that time?
TJ: So I arrived in March of 2020, right at the start of COVID. So I essentially moved here and got locked down and got to learn a little bit. I guess it gave me a longer offseason than normal, since we didn't have a season that year to really learn about the Renegades, and the culture, and familiarize myself with the area before we really got into it for the 2021 season. Obviously, the 2021 season was very unique in its own way. But through that process, we kind of broke down to its core, and we had to rebuild it in some ways and the changes of both with the Yankees, the length of season, all of those had a significant impact on how we operate our business and how we structure and strategize how we're going to go on a day-to-day basis. So we were able to take those things and really bring in a lot of new people that have that mindset and are buying into that culture. We've ended up with an amazing core group of people that represent the Renegades really well. So I'm really excited that, I think those even though that was a really tough time for everybody, that brought a lot of lessons and opportunity for growth for me just professionally and personally. So to deal with those things, looking back now, when you're in the midst of it, and you're like, oh my gosh, I don't know how I'm gonna get through this. But now that we're kind of on the other side of that, and looking back, you realize all the things that you were able to learn from that and take from that and grow. So I'm thankful for that experience, even though it was really a tough one. And I'm thankful for where we are right now and how we can really impact the area and the communities that we serve.
HVR: Growing up in Mississippi, who was your big league team back then, or did you really follow Major League Baseball?
TJ: The Braves were definitely my team. And that's mainly because field trips in school, and going with my parents, too. That was the closest team so we went to Braves games. That was the Chipper Jones era of Braves baseball, which was very successful. So they were also a good team to follow at that point. I'm not so diehard that I have allegiance to them and I'm always watching them. Now that we're a Yankees affiliate, I'm much more on Team Yankees and live in New York and I'm happy support that team.
HVR: What was it that got you interested in working in sports and set you down this career path?
TJ: So when I was at Mississippi State University it was enjoyable to experience to SEC football, SEC baseball. They won a College World Series championship a couple years ago. So the all those things are fun. But yeah, I went to Mississippi State and was a Risk Management Insurance, Financial Planning major, which I'm obviously doing nothing with. But when I was, I had a good time, I decided to stick around and get my MBA. And when I was doing that, I had the opportunity to take some electives, and I decided that sport management would be, the path I went for those elective classes. And it really showed that there was opportunity to scratch the business itch, which I really love, and then incorporate something that was more of a passion and a hobby growing up with sports. And I saw that it could be a career path. So when I finished, I started looking for opportunities. And that's how I've been ended up in Minnesota.
HVR: Maybe some fans are wondering with a new GM, is the fun atmosphere at the ballpark still going to be there in 2023? (laughter)
TJ: Yeah, yes. So if anyone is reading, that's a follower of Minor League Baseball they know the Saints are a top-notch team when it comes to entertainment and fun, their mantra is "Fun is Good." I definitely want to replicate that and mirror that as much as possible. So the more we can straddle that line and have a really good time and make sure that we're not taking away from the baseball that's happening on the field, the better. We can attract and entertain the baseball fans that are coming to watch the next group of Yankees stars, as well as the families that are like, I don't care as much about baseball, but I know that the Renegades are going to entertain me and my family for three straight hours. So we're going to come to a ballgame. That's what we want.
ABOUT THE HUDSON VALLEY RENEGADES
The Hudson Valley Renegades are the High-A affiliate of the New York Yankees in the South Atlantic League. The Renegades begin their 2023 season at home on Friday, April 7 with a three-game homestand against the Greensboro Grasshoppers. For more information, please visit hvrenegades.com or call 845-838-0094.
ABOUT DIAMOND BASEBALL HOLDINGS
Diamond Baseball Holdings (DBH) was formed in 2021 to support, promote and enhance Minor League Baseball Clubs affiliated with Major League Baseball through professional management, best practices, innovation and investment (DiamondBaseballHoldings.com).