Travs Rally to Win Final Series Opener
8th inning rally produces 5 runs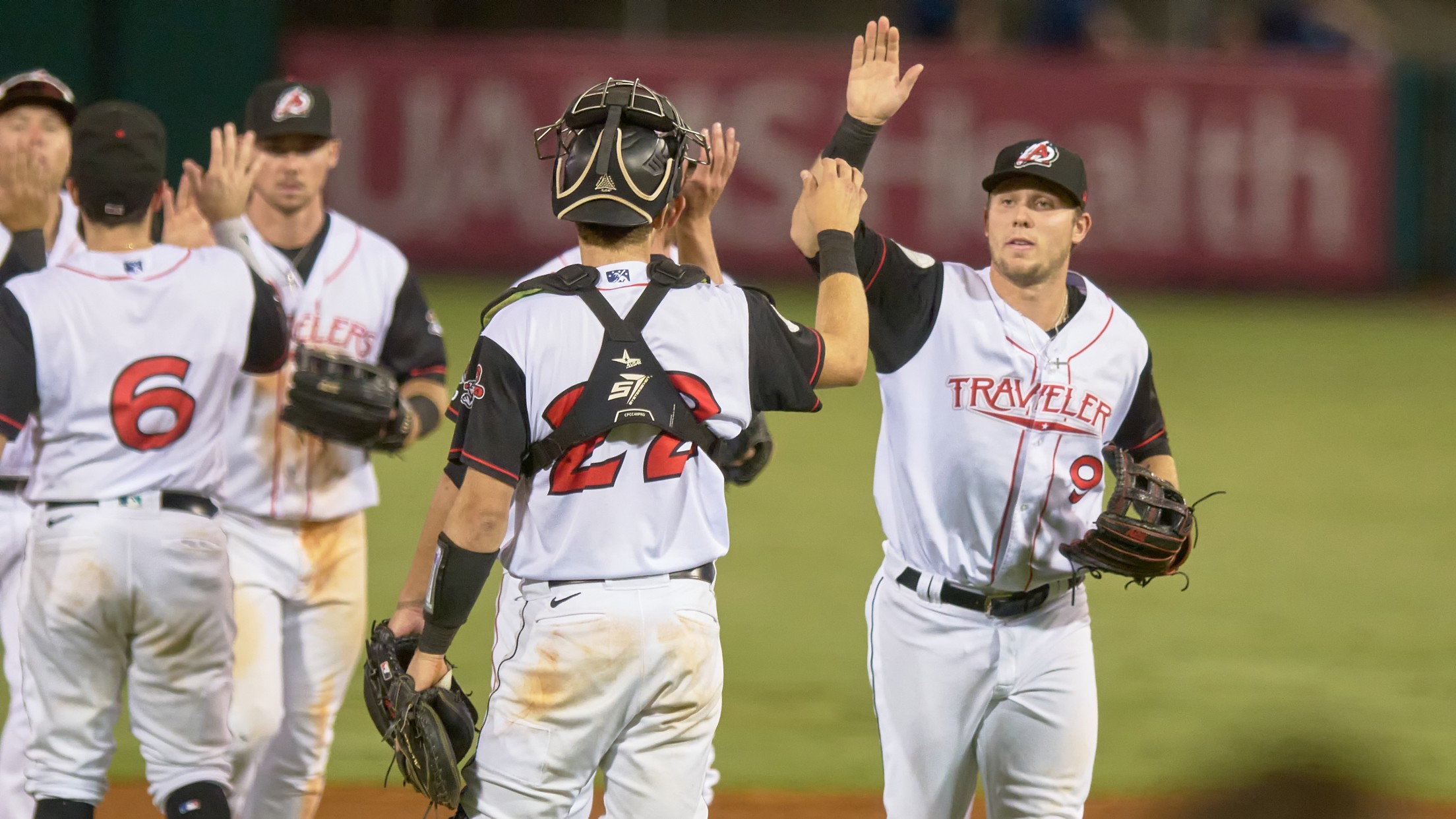 The Travs celebrated the win over the Hooks. (Mark Wagner)
North Little Rock, AR— A five run eighth inning propelled the Arkansas Travelers to a 6-2 come from behind win over the Corpus Christi Hooks on Tuesday night. It gave the Travs a win in the series opener of the final series of the season. Emerson Hancock pitched the first
North Little Rock, AR— A five run eighth inning propelled the Arkansas Travelers to a 6-2 come from behind win over the Corpus Christi Hooks on Tuesday night. It gave the Travs a win in the series opener of the final series of the season. Emerson Hancock pitched the first five innings, allowing just one run on two hits while matching a career high with nine strikeouts. Jake Scheiner drove in a pair of runs including the tying run in the eighth. Joe Rizzo reached base three times including a double and scored a pair of runs.
Moments That Mattered
* Scheiner tied the game with a sacrifice fly in the eighth and then a couple batters later, Zach DeLoach raced home on a wild pitch for the go-ahead run.
* Arkansas put the game away with back-to-back home runs from Kaden Polcovich (2-run) and Jose Caballero.
Notable Travs Performances
* 3B Joe Rizzo: 2-3, BB, 2 runs, 2B
* RHP Emerson Hancock: 5 IP, 2 H, R, 3 BB, 9 K, HR
News and Notes
* Arkansas improved to 10-2 in home series openers.
* Scheiner raised his league leading RBI total to 103.
Up Next
The series continues on Wednesday night with right-hander Stephen Kolek pitching against righty Jayden Murray. It is the final Dog Day of the season with first pitch set for 6:35. The game will also be broadcast on 93.3 The Fish, the First Pitch App and milb.tv.